SHORT FILM FOR BABYCENTRE GIVING ADVICE AND TIPS FOR NEW PARENTS BUYING THEIR CHILD'S FIRST SHOES.
CLIENT
BabyCenter is the world's number 1 digital parenting resource, with information and support that reaches more than 100 million people monthly. UK BabyCentre are one of the UK's most trusted and recommended parenting and pregnancy website.

BRIEF
The client required a sweet and engaging character based animation to present information on buying your toddlers first shoes. The animation had to compliment the company branding and the other videos on their site.

RESULTS
We worked with the Thrive team to bring their script to life. Working with a soft gentle aesthetic we designed 3 characters to illustrate the growth of the child sticking closely to the BabyCentre look and feel.

CREDITS
Client: BabyCentre UK
Produced by: Thrive
THE PROCESS
We used the iPad Pro and Procreate to come up with our character designs. Then using the Joysticks 'n Sliders plugin for After Effects we created a head rig for our character bringing her to life in a fun and playful way. We applied soft watercolour textures and a rough boil to the edge to create a handcrafted feel

Fun animated piece teaching new parents all about what they might find in their babies nappy.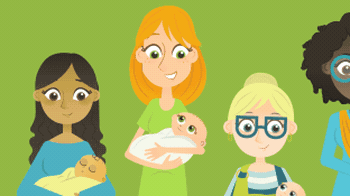 AFTER CHILDBIRTH: 7 THINGS
An animation for new mothers for use on BabyCenter's social media and their dedicated mobile app.
An animated pirate adventure for an exhibition at the V&A Museum of Childhood.